Document Binding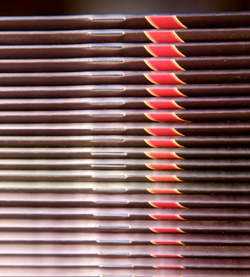 SADDLE STITCHING
The most common binding method, staples are inserted into the spine of folded and printed material such as manual, catalogues, booklets and brochures.
PERFECT BOUND
Most commonly associated with paperback books, perfect binding utilizes a flexible adhesive to attach a paper cover to the spine of an assembled document. It is a simple, effective and affordable way of binding reports, manuals, brochures and other documents that may not see a longer use cycle.
TAPE BINDING
Create a permanently bonded, professional-looking document with our tape binding service. A strip of thermo-activated adhesive is used to create a strong bond and give a finished appearance to your documents.
COIL BINDING
Popular for documents, reports, presentations and proposals, coil bound documents are held together with a spiral coil, for a durable and easy solution to your document needs. Thay can be laid flat on a surface, or the pages rotated 360 degrees.
COMB BINDING
Similar to coil binding, documents are bound with hard plastic spines with rings, available in a variety of colors.