Document Finishing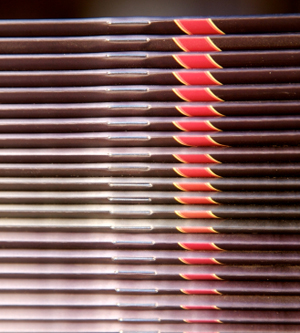 CUTTING
Our bindery professionals are experts at operating our state-of-the-art cutting machines. We frequently save our clients money by printing or duplicating multi-up on a page and cutting them down.
DIE CUTTING
Die cutting gives your postcards, brochures and other collateral a unique shape and appearance that attracts attention and entices your audience to take a closer look. With virtually any shape possible, choose from our wide selection of stock dies or let us create a custom die cut that matches your vision and fits your budget. Call us today and find out how die cutting will make your message stand out.
FOLDING
We can hand- or machine-fold your documents in a number of formats, including double parallel, tri- and z-folds, and engineering.
SCORING
When folding is required on heavier stocks, scoring ensures that the fold will be clean and not damage the printed image. We can either hand- or machine-score to meet the demands of your job.
PERFORATION
Perforation can be used to produce removable reply cards, coupons, and reminder pieces. We can either hand- or machine-score to meet the demands of your job.
LAMINATION
Bring us anything from menus and price lists to artwork and posters — we can secure them for long-term use and enjoyment. We can also shrink-wrap your documents for added protection.
MOUNTING
To make a professional appearance, nothing goes farther than quality mounting. We use a variety of thicknesses and mounting materials, so you can finish your job to make that perfect statement. Some mounting materials may need to be special ordered, so talk to us about your project in advance.
TRIMMING AND GROMMETING
Take your mounted piece one step further, with plastic trimming and grommeting. Trim gives an added layer of protection—as well as an extra-professional look—to your materials. Grommets make it easy to hang your mounted pieces. To learn more, give us a call.
NUMBERING
Sequentially numbering carbonless invoices, purchase orders, or other business forms are an effective way to keep your files organized and accounted for. We also number tickets, invitations, and other unique documents.
SRINKWRAPPING
We can shrinkwrap all types and sizes of documents to help protect them from the elements.